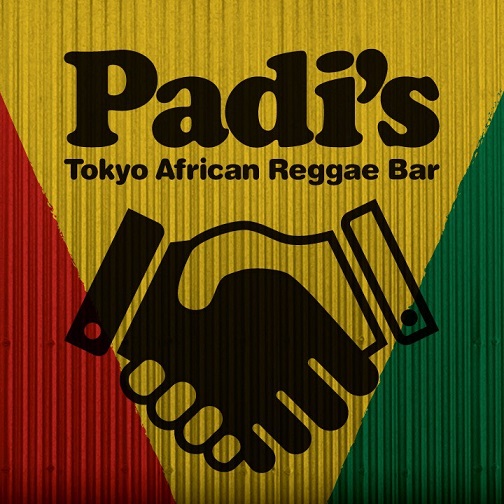 COME MAKE FRIENDS!!!


Friends Fans Countrymen lend me your ears,from the 1st of April 2018 the name of our place of relaxation and charging our batteries "Kingstone Cafe 'N' Bar" is changed to "Padi's Tokyo"
We are grateful for your support all these years,we also hope to continue making this space as fun as ever.
We haven't make so much changes,the management is basically the same,only from now we intend to play more African and Reggae music,but you can still request your favorite music anytime,our family membership system is available for anyone who wants to be part of our family.
Once again I want to say gratitude to all and hope we continue hanging out at "Padi's"
OPEN
18:00PM-23:00PM(Mon-Thurs,Sun)
22:00PM-5:00AM(Fri/Sat)

☆ALL DRINKS 500yen For Members Only
☆First Drink 1,000yen After Check Menu

☆African food. please see our menu for details

☆Photo identification required to enter


☆Event hosting - parties, weddings, "bonenkai" (year-end parties),
dance lessons. please contact us for details
Padi's Tokyo VIP CARD
36,000yen

☆ALL DRINKS 500yen 
☆Your friends can also be accepted !!
☆We will send you the information of our special events on the rapid contact with you by DM, a phone or email if necessary.

EVENT
◆BABYLON NIGHT
Every 1st Friday Of The Month 20:00~

◆AFRO SONIC
Every 2nd Saturday Of The Month 22:00~
 African,Ethnic,Traditional 'N' Culture Roots MUSIC!
●AFRICAN DANCE SHOW
●JEMBE 'N' CONGA PERFORMANCE



▼▼Multipurpose Rental Space▼▼
 Rental space for events.
If you plan to have parties for wedding, birthday, anniversary, New Year party, End-of-the-year party, feel free to contact us.
ACCESS
Padi's Tokyo African Reggae Bar
Koda Building 5F 3-13-10 Roppongi Minato-ku Tokyo
 Tel: 03-6698-9001

For More Information Please Contact :
E-mail: office1@freemanlaborforce.jp